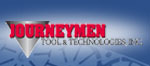 Member of the




Journeymen Tool & Technologies, Inc.

Our name says it all: We are a team of highly skilled Journeymen Tool and Die Makers possessing the technical expertise and extensive experience that make us an asset to your engineering and design team.

As an extension of your project group, we contribute ideas for improvements in manufacturability and function of critical parts, with the cost savings passed on to you.

Journeymen Tool is committed to partnering with our customers to achieve each unique goal for final product performance.

Journeymen Tool & Technologies assures you will receive on-time delivery, quality, and competitive pricing.

Progressive Dies

Complex Precision Prototypes

Short Run Parts